HOT CROSS BUNS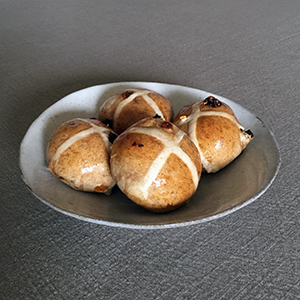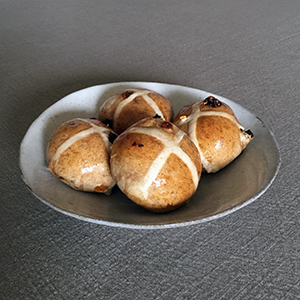 HOT CROSS BUNS
In one area of baking us Danes lack behind the English. It is in the holiday bun making. At Easter we are far more interested in the chocolate eggs the bunnies bring. The hot cross buns is only a thing I learnt about when coming to England. The origins of hot cross buns may go back as far as the 12th century. According to the story, an Anglican monk baked the buns and marked them with a cross in honor of Good Friday. Over time they gained popularity, and eventually became a symbol of Easter weekend.
The buns can be baked directly from the freezer in a pre heated oven at 180˚C. For this method allow 25 minutes baking time. Take the buns out of the freezer and place them on a parchment lined baking tray leaving a couple of centimeters between each pastry.
OPTIONAL FINISHING: While the buns are baking make a sugar syrup. Mix 45 gram sugar with 50 gram hot water and a drizzle of honey. This is enough syrup for 10 buns. Brush the buns with the syrup when they are just out of the oven and let cool before eating.
The temperatures given are for a fan oven. A good rule of thumb is to add 20˚C for a conventional oven. I strongly suggest using an oven thermometer to ensure the correct baking temperature, especially if using an older oven. The buns are not suitable for microwave ovens.
Keep frozen until ready to bake and use within 3 months of purchase.
Ingredients: Allergens, including cereals containing gluten, see ingredients in CAPITALS: WHEAT flour (47%) (calcium carbonate, iron, niacin, thiamin), butter (MILK), raisins (11.2%)(SULPHITE DIOXIDE), sugar(6.3%),EGG , mixed peel (orange & lemon)(SULPHITE DIOXIDE), apricots (SULPHITE DIOXIDE) cinnamon, mixed spice (cinnamon, coriander, caraway, ginger, nutmeg, cloves)